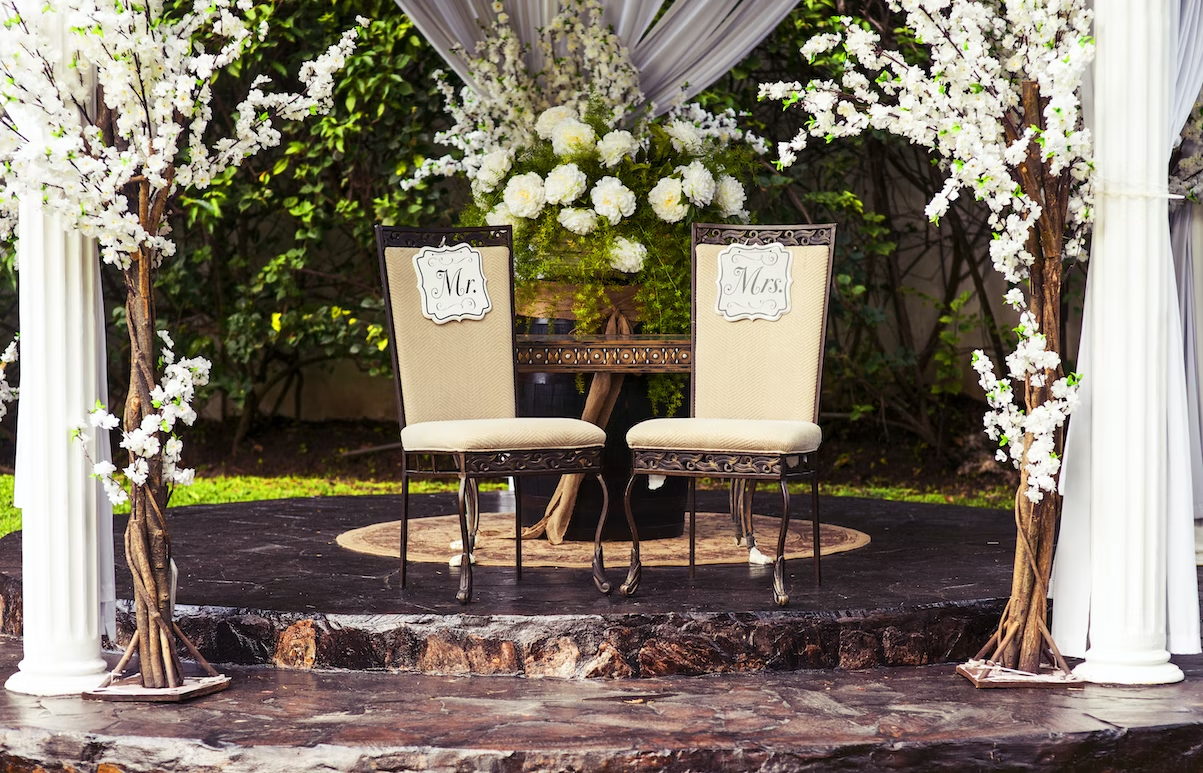 You've been dreaming about this day since you were a little girl – planning, organizing, and visualizing: your dream wedding. When the time finally comes to make it happen, there is no doubt that you will have thought through every detail for your perfect day. But, one of the most important aspects that shouldn't be overlooked when putting together your vision for a beautiful wedding is preparing your garden space.
Creating an outdoor setting with plenty of natural beauty can enhance any mother-daughter or father-son celebration in ways you didn't even know were possible! To make sure everything fits into your overall plan and goes off without a hitch on the big day, follow our tips below and get familiar with all the steps necessary to prepare your garden for a stunning wedding ceremony.
Choosing the Ideal Garden Design
When it comes to creating the ideal garden design for your dream wedding day, there are many important elements to consider. The size and shape of the space you're working with, soil type, and sun exposure should all be taken into account.
From formal manicured gardens to natural landscapes that could double as a fairytale setting, the options are endless – especially when selecting plants that will match your wedding vision! Before beginning the design process, it's essential to research what plants will do best in your specific climate and garden conditions so that you can create a stunning arrangement for your special day.
Developing a Plan for Your Garden Preparation
To ensure your wedding day is as perfect as can be, you need to create a plan for garden preparation. Start by establishing a timeline for all preparation tasks, so nothing gets forgotten and you don't run out of time. Make sure you leave enough time to complete all of the gardening chores and are not rushing days before the big day.
To help ensure everything gets done on schedule, budget for the necessary garden materials such as compost, mulch, tools, fertilizers, and more – that way nothing will get in the way of you developing your dream outdoor space. If needed look at hiring help who can bring their skills and knowledge to guide you through the whole process. Creating a plan will set you on the right path and make sure your garden is prepped in plenty of time for your dream wedding ceremony or reception!
Creating a Focal Point in the Garden
Creating a beautiful, memorable focal point for your dream wedding is an essential part of the garden prep process. Allowing a designated area to be the focus of your nuptial celebration will help ensure that all eyes are on the happy couple and their special day. A few ideas to consider include placing a seating area complete with comfy chairs and lush pillows surrounded by vibrant flowers in bright colors, or incorporating a gazebo or trellis with string lights and flower garlands.
Namely, you should consider installing a curved garden bench since it will add a touch of elegance. Alternatively, you could opt for a romantic archway accented with flower arrangements or drapery to make it stand out. Whichever focal point you decide on, don't forget that this is the area where you'll be exchanging your vows – so make sure it's breathtakingly beautiful!
Planting Flowers to Enhance Your Wedding Day Look
Planting flowers is a gorgeous way to personalize any wedding. There are so many delightful options to choose from when it comes to selecting the perfect color scheme and flower varieties for your special day.
You can choose from classic favorites like roses, lilies, and daisies or make a bold choice with anthuriums, magnolias, and tulips. To help make sure you get the most out of your garden planting experience it's best to consider seasonal availability as well. Think about the colors that will really enhance your wedding look and pick cheerful blossoms that bloom in the right season to achieve stunning results!
Final Touches
You're almost ready for the big day! Add some subtle finishing touches to transform your outdoor space into a magical wonderland. Hang fairy lights in trees or around arches or swings, and drape them down to illuminate pathways.
If you have flower beds and shrubs, tie festive ornaments to branches or string lights through shrubbery – they'll twinkle against the night sky! Create a dreamy atmosphere for the wedding with dimly-lit corners of the garden by adding lanterns and candles, making walking up to the venue all the more special for your guests. When everything comes together for your big day, it'll be picture-perfect!
Taking Care of Your Garden After Your Wedding Day
When it comes to taking care of your garden after your wedding day, a little bit of care can go a long way. Once the decor has been removed, there are several tips to remember that will keep your garden looking beautiful throughout the seasons.
Start by removing any remaining decorations from the area, ensuring that all nails and staples have been pulled out as well. Then you can begin with some light pruning—clearing away overgrown foliage and trimming back shrubs and flowers. To really show off those stunning blooms, you may want to consider applying fertilizer or setting up a natural composting system in your garden. 
Furthermore, be sure to plan regular maintenance such as weekly watering and occasional weed pulling or mulching. All these efforts may seem daunting, but they will ensure that your garden remains an oasis for many years to come!
With a thoughtful plan, you can turn your garden space into the perfect backdrop for your dream wedding day. The most important steps to success include selecting the ideal garden design, creating a timeline and budget for preparation tasks, determining a focal point in the garden that can stand out on your big day, carefully selecting flowers based on best colors and in-season availability, adding decorative elements such as lights or ornaments to really spruce up the look of your garden and finally keeping up with the maintenance required post-wedding. Through dedication, time, and effort you can make sure that your garden is one of the highlights of an unforgettable day.